Sheep Abortion
August is not an obvious time to be talking sheep abortion, butthe sheep breeding season approaches and it is time to think about vaccinating against the two most common causes of ovine abortion.
Toxoplasma is a protozoan parasite that is found in the environment, and is commonly propagated by infected cats that can produce millions of infectious oocysts that can infect sheep and cause abortion if they are pregnant, and predisposes to infertility.
Abortion, weak, dead or mummified lambs and too many barren ewes are signs of toxoplasma infection in a flock, which can be confirmed by blood samples.
Vaccination with Toxovax is simple and effective, with just a single dose of the vaccine given at least three weeks before the rams go in. This one injection will cover two lambing seasons.
Supplies of Toxovax have been difficult in the past, but we have secured a reasonable supply for this season, but we need to know at least 10 days before you need it, and it only has a 7 day shelf life. Some planning is needed!
Enzootic abortion (EAE) is a more difficult disease caused by a chlamydia organism that exists in carrier sheep. A ewe can be infected at any time in its life, including as a baby lamb, and then abort at the next pregnancy. Ewes that have aborted once are generally then immune. Abortion storms caused by EAE can be treated with oxytetracycline antibiotic for the whole flock at the early onset of the storm, but the treatment is expensive, and not entirely effective. Lambs from infected ewes that have been treated are often born weak.
Diagnosis is by examination of the placenta, lambs and ewe at the time of abortion, or by simply blood sampling ewes that have aborted or are inexplicably barren. Vaccination is effective at prevention, but will not stop infected ewes (which may have been infected as lambs or at the last lambing season) from aborting following vaccination. Vaccination comprises a single dose given at least 4 weeks before tupping, and can be given at the same time (but not in the same syringe or at the same site) as Toxovax.
This year, we have secured supplies of Cevac Chlamydia vaccine for the prevention and control of EAE.
Prices:
Please order in plenty time and plan the use of these vaccines as supplies are limited and shelf lives are short.
We supply these vaccines at a single, standard price with no discounts:
Toxovax:
20 doses £106.00
50 doses £265.00
Cevac Chlamydia:
20 doses £61.80
50 doses £154.50
If you are unsure about sheep abortion, and if either Toxoplasma or EAE affected your flock last season, call and speak to Nicci who can give expert advice and offer easy blood sampling to check.
Mastitis treatment
The number of available intramammary tubes for treating mastitis is diminishing, and the milk withhold periods are increasing. Of course, best to avoid mastitis in the first place, and most cases are preventable. The cheapest tube is the one you don't use. However, when clinical mastitis strikes, there is a difficult decision on whether to treat it, and what to treat it with. We now understand that antibiotic treatment may not be necessary in many cases. The clots in the milk and the inflammation of the udder are an indication of the cow's response to infection and in many cases, the
infection itself has been and gone by the time the disease is recognised.
In other cases, the inflammation is an indication that a new infection has become established and will become chronic and infectious to other cows unless effectively dealt with by robust antibiotic treatment.
These decisions are largely based on experience and educated guesswork. The E.coli and other similar infections generally resolve without antibiotics, but need treatment to manage the inflammatory response in the cow: Metacam, fluids, stripping the quarter frequently to remove toxins etc. The other types of organisms such as the streptococci and staphylococci will require rapid and robust antibiotic treatment to prevent them
becoming established and turning in to chronic infections. A new system of identifying the type of organism involved in clinical mastitis cases and
so making the decision of what to treat, and when, has become available and can be used on farm. MastDecide requires a single, clean sample to be taken from an affected quarter and incubated in two tubes of reagent for just 12 hours. The test will then determine whether to use antibiotics in
the treatment plan for each individual case. The use of the test will reduce the overall use of antibiotics (intramammary tubes are the single biggest
use of antibiotics on dairy farms) and provide a quick, logical decision tool to facilitate better control of mastitis treatment.
Speak to Amy at Witheridge about use, price and the equipment that you will need.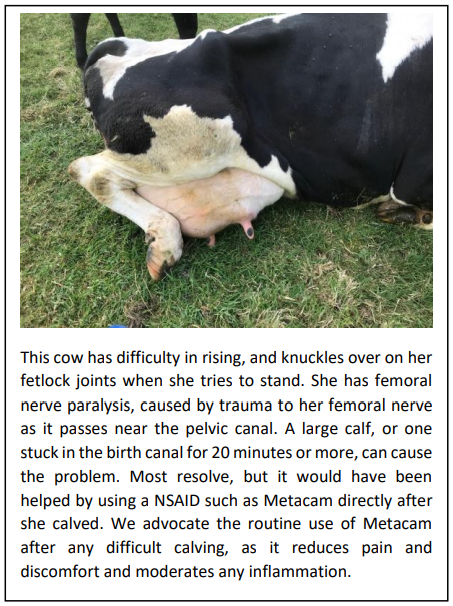 Gamma Interferon Blood Tests

It is DEFRA policy to undertake blood tests for Bovine TB on any herd with a new TB breakdown that is situated in an area that has been badger culling for two years or more. That is most of the area covered by our practice.
The Gamma Interferon test uses a blood sample to detect cells that are sensitised to bovine TB, similar to the skin test but done in a laboratory. The test can detect TB earlier than the skin test, and will find some infected cows that the skin test misses. DEFRA Policy is to blood test the whole herd after a skin test that has disclosed the breakdown, but APHA are receptive to discussions on testing targeted groups or particularly high risk animals. A discussion can be worthwhile. Our experience so far is both good and
bad: in most cases, the Gamma Test finds just a few more infected animals. In a few instances, it has found a lot more, leading to significant enforced removal of gamma reactors after a disclosing skin test. There seems little point in sacrificing lots of infected animals if other preventive measures are
not also included in the control programme. We are always keen to help with sensible advice whenever there is a new TB breakdown.
Urgent and Routine Calls

As work returns to some sort of normality after lockdown and restrictions on our working practices, we are catching up on routine calls that were disrupted through March to June. We will try and fix Johnes risk
assessments, herd health plans, mobility scoring and infectious disease surveillance in the coming few weeks.

We always have at least one emergency vet on call, 24 hours a day. However, the person answering the phone is generally not a vet, and although usually asks the right questions to determine the urgency of any call, the receptionist sometimes needs to know directly if the call is particularly urgent. If you consider the need for a vet is urgent, please tell
us. We endeavour to get to urgent calls within 45 minutes, but please understand that we rarely have vets waiting at the surgery for calls to come in – they are invariably occupied on routine calls or other matters. But if your call is genuinely urgent, it will get prioritised and we will find someone to deal with it. Just tell us!